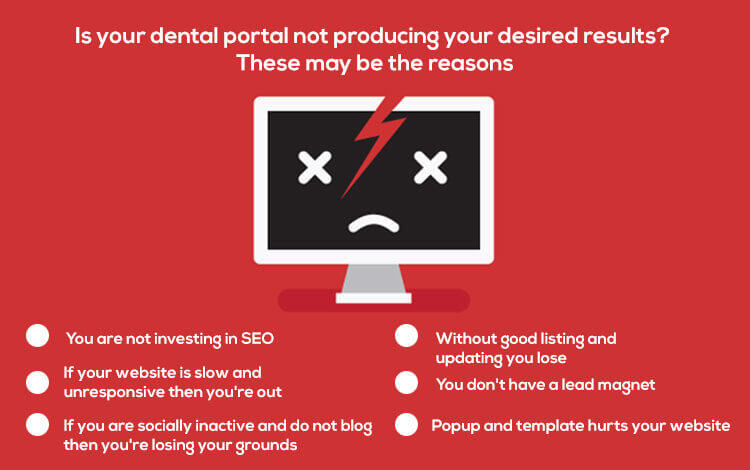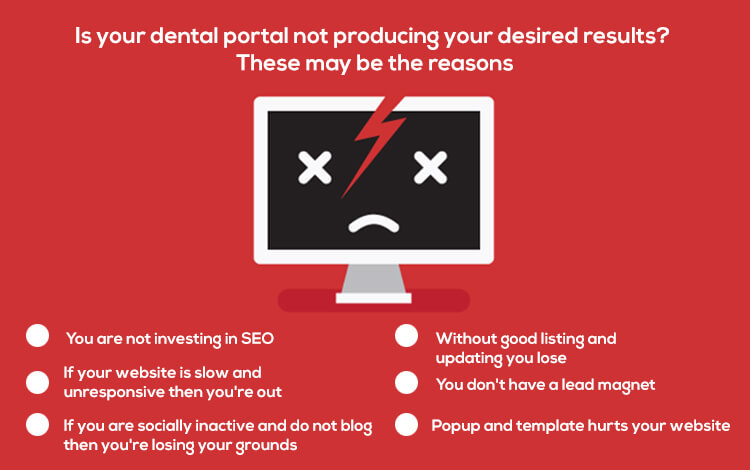 Well a bad tooth hurts but truth hurts even more. If you have established a dental website then you must have had something in the mind like wanting to get popular or spreading your practice reaches. If the site is not fulfilling your need then it must have some flaws in it. But the question is, is there really any flaw in the website or the flaw is there in your way of scheming. Anyways, the flaw it ultimately hampers your image, credibility and in length affects your profitability. So if you're dental website is not making any progress these following pointers may very well be one of the reasons.
You are not investing in SEO – Search engine optimization or SEO is the process through which you gain your visibility in a surfers web search results. It is most efficiently done by writing unique contents in certain style having focused keywords based on your Digital Marketing company or your domain of expertise. This will make the website get a high page rank in search results or SERP and that way increases the traffic inflow toward your dental website. This is intricate work and requires professionals with great innovative & technical skills for its development and maintenance. Doing it this way will organically rank up your website unlike paid methods and will get long term results. For this reason you need to invest on SEO experts &  SEO packages, as it will give you a huge turnover by making patient visit your website more often.
If your website is slow and unresponsive then you're out – All the search engines rank up a site that has a very responsive setup. Being responsive means the website has an easy surfing interface where the people can search for anything and find it immediately without much hassle in a well presented and fast-paced way. If the website is responsive then it could be operated through any device. On the other hand, a slow website generally mires down the inquisitiveness of the patients. Thus if you have both an unresponsive & slow website then you must quite be expecting online traffic.
If you are socially inactive and do not blog then you're losing your grounds – Social media platform is the most important customer base of all. The social media is now the most marketable ground for turning the web traffic tide your way. Promoting your website through its social media counterpart is a sure way to get huge patient revenue. Moreover, if you periodically post interesting blogs about your dental clinic or any dental related topics, then there is a crisp chance that patients will look up in your account. But if you are socially inactive and do not take time to post blogs and articles then your website will become a null existence.
Without good listing and updating, you lose – Listing of your site in search engines is very essential or your visibility on SERP will be history. If you do not take time to list your dental website in popular search engines and update the same with information time to time then your visibility will decline very rapidly and your goal of attracting patients towards your clinic will keep getting farther from you.
You don't have a lead magnet – To get the traffic inflow toward you, a need for a magnet is very important. An influencer promotional campaign for your dental clinic or a free dental check-up campaign may cost you some but the customer base build up will be very stable and revenue grabbing. If you do not invest you do not progress.
Popup and template hurt your website – It is true that popup gives you income and templates save your web designing costs but honestly for little savings you are forsaking huge benefits. Popups are an eyesore for the surfers and they will lose interest in your dental website. Moreover, templates may be good but if you are not presenting something new for your audiences then the monotony will turn the customers off. Give your dental website an outstanding pitch and it will grant you your dream. Otherwise, you can just let go of the whole idea of promoting your dental practice through your website.