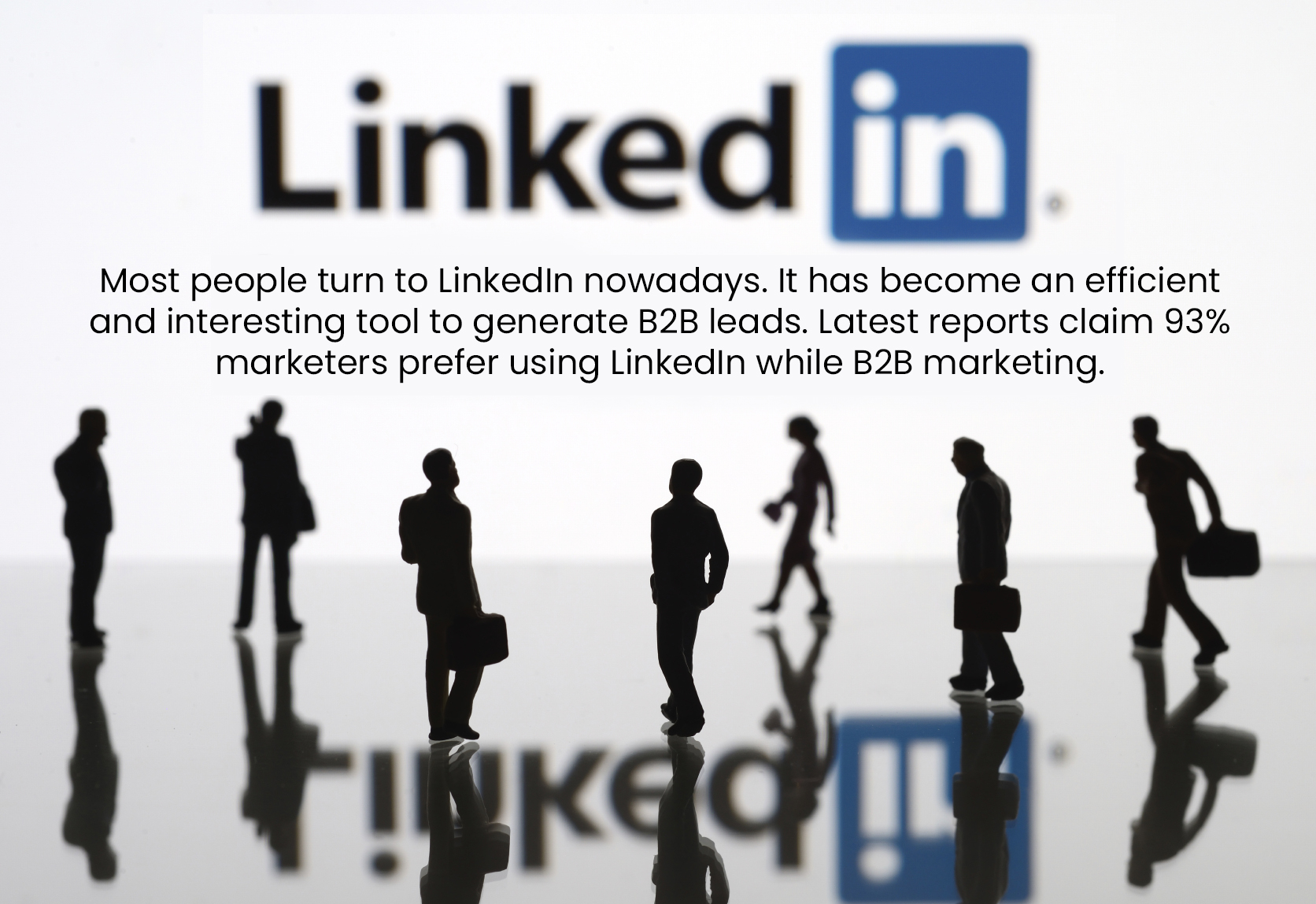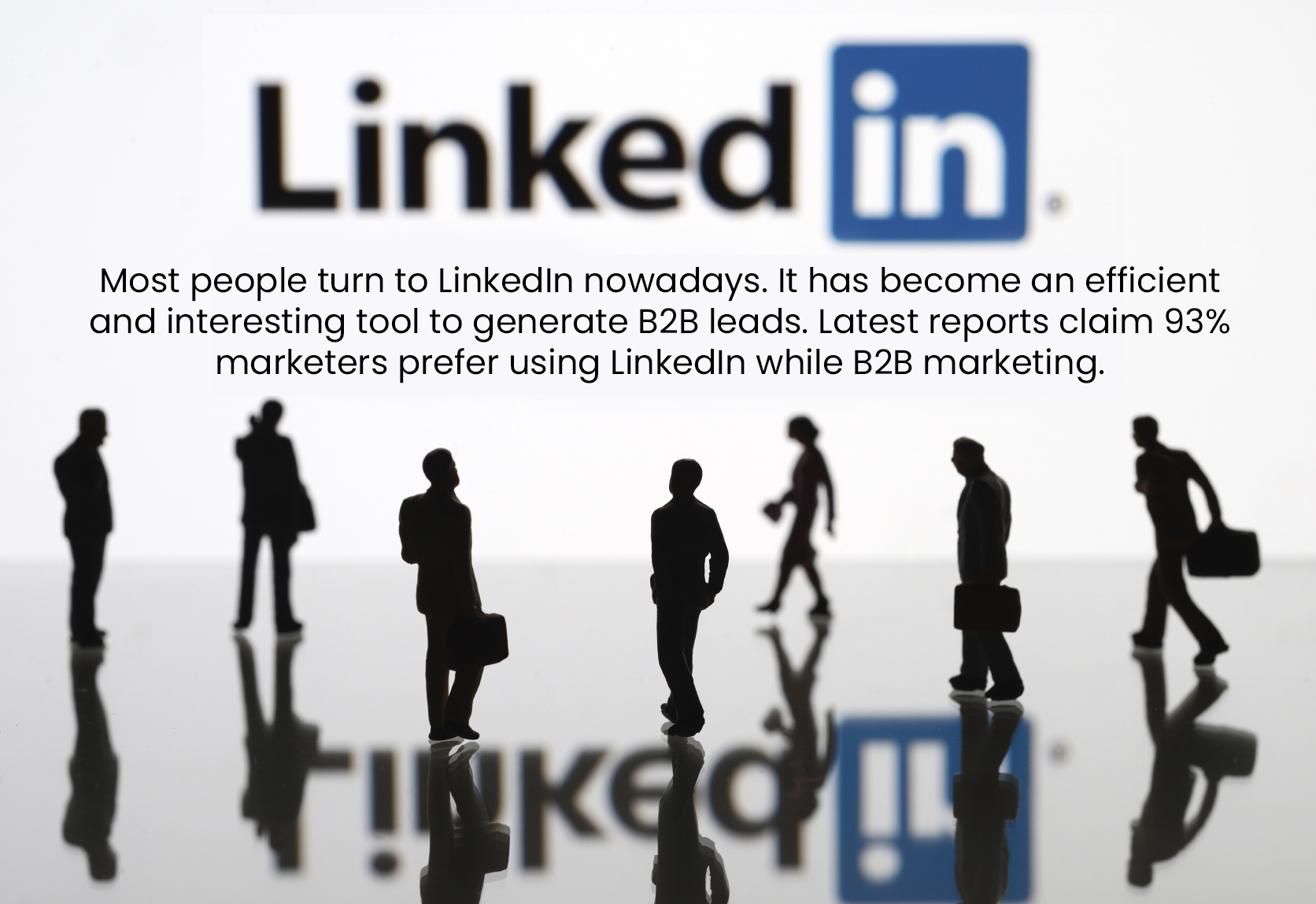 In the recent past, people have become more connected and the world as we know is dwindling. A more compact world means smaller lead generation window. In order to discover new ways for the generation of leads, most people turn to LinkedIn nowadays. It has become an efficient and interesting tool to generate B2B leads. Latest reports claim 93% marketers prefer using LinkedIn while B2B marketing.
As lead generation is extremely important and social media plays a crucial role in lead generation, it is becoming mandatory for marketers to increase their online presence. In terms of internet presence, LinkedIn leaves all other social media platforms behind. So, it is of chief priority to know how to find leads using LinkedIn. There are multiple ways to start unearthing leads, but there are some which are to be noted precisely so that one does not go wrong while using LinkedIn.
The first and foremost is to create a company profile on LinkedIn. There are about 500 million users on LinkedIn which mean not being a part of it would lead to a loss of a global clientele. All one needs to do is create a company profile with its name and upload an appropriate image of it. Also, one has to make sure that the 'About Us' stands out and incorporates all the essential details of the brand. Another important feature is to add occasional keywords in the 'About Us' part. It is to be kept in mind that the physical location is mentioned which would help other businesses to locate the brand and be better connected with it. Adding links from websites or blogs to the company page always helps.
The next thing to be kept track of is that the content posted on the page should be informative as well as intriguing. Posting content on the page regularly is recommended as it will keep the audience engaged. It is best to use all the diverse types of posts that are available on LinkedIn. An eye-catching headline with fine content and images or videos keeps the viewership high. Another way to keep the audience hooked is to write a small content in the post and provide a link to the entire blog post. The content should be comprehensible and convenient for users.
To attract the right public, one can now generate sponsored contents or post targeted messages through InMail. Creating matched audience will end up in fetching more purchasers. It is really useful in effective marketing and earning.
Sometimes the real deal is to find one individual who is ready to buy. After proper customization, the result is the best suited for any company. Running a background check of the organization and location of the individual and contacting them, one can decide if he is the perfect one. In this case, LinkedIn is especially helpful for any company.
If someone likes to connect with groups, that is also equally feasible. LinkedIn groups allow easy access to compatible knowledgeable professionals who share similar ideas. One can connect with the most active individuals and ask them about insights or share views with them. All these will benefit the company in the long run. It will build the right relationship with even any cost. Those who intend to create their own groups can also use LinkedIn as a platform for that. For that, one has to 'Create group' in the tab called My groups. After creating the group, and adding a suitable title, logotype and characterization, the rules are to be laid down for others to follow.
A striking strategy for LinkedIn is the usage of InMail, which is a paid feature (quite minimum at that). But it allows to do a lot for a mere 79 dollars a month. With this feature, anyone in LinkedIn can be contacted. InMail has a response rate which is triple the usual emails. Anyone and everyone on LinkedIn can be reached with this feature activated.
Then, one should follow the marketing blog on LinkedIn. New features are regularly updated and it always gives users an edge over others. This will boost the lead generation by leaps and bounds.
Finally, with half a billion users, it's obvious to have a boundless database that makes it effortless to connect with people. That is why LinkedIn has a Sales Solutions policy. It also accommodates teams of any size. It enables a company to increase their conversion rates.
LinkedIn holds great potential in the digital world. It helps to generate maximum leads for any company page that is convincing and cracking. Staying connected with the LinkedIn marketing blog and using the InMail efficiently will amount to great lead generations.
Read More
EFFECTIVE MEDIA MARKETING TRENDS THAT YOU SHOULD FOLLOW TO IMPROVE YOUR BUSINESS