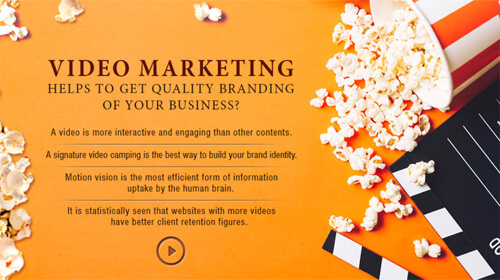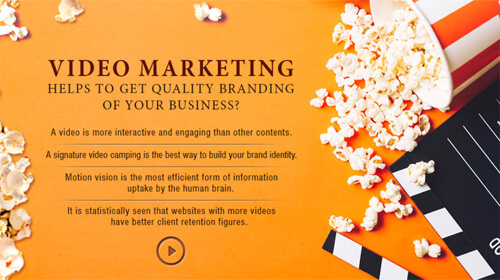 The very core of marketing is getting an upheaval due to the continually advancing digital front. This is the reason why digital marketing is the new face of marketing. From flyers to greeting and from events to media, every aspect of promotional tactics have found their perfect spot on the cyber pasture. Nowadays, the videography aspect of digital marketing is, in particular, raging like fire. For every successful online promotional drive the incorporation of video in the campaign is a must. Previously, videos were a luxury and only big houses could afford them. But with the increased availability of latest smart gadgets and swift internet connections, shooting and uploading videos have become a second nature for laymen and professionals alike. Utilizing the video contents for clarifying the visibility and accelerating the traffic inflow for a website, is the most veritable action for both big corporates and ambitious startups.
So why are online videos making so much impact on the digital branding of a business? The answer lies in the fact that they are compatible with the pace of the new world order. A short video can say more about something in a lucrative way to the surfer than a long creative written content. A video is far more informative, graphical and time saving than any other digital content, both creatively and professionally.
Here are few points that clarifies the fact – video marketing is the latest trend of digital marketing
A video is more interactive and engaging than other contents. On a social media portal, under a minute you will have more time to view and share a short and crisp video log than read and share an intriguing 500 word blog. As videos get more shares, success of a video marketing campaign is inevitable.
A video massage could say a lot more about you endeavor than a picture or a long landing page article. In short, a signature video camping is the best way to build you brand identity.
Videos offer better visual description for you goods and services than any other media content. The customers watch the video and based on the quality of your videos, you can definitely get a raised conversion rate on your portal quite instantly.
Vision is the most efficient form of information uptake by the human brain. It is also a fact that the retention of visually transmitted comprehension is maximum. So instructive videos are more helpful and liked by the web traffic than other modes. Video marketing campaigns are thus very fruitful as the explanations do really seep in.
Showcasing the achievements of you firm through a compiled video stream is the best way to inspire and allure the potential clients.
It is statistically seen that websites with more videos have better client retention figures. This is because attractive short videos are far too entertaining than some hashtag posts or incomprehensive pictures. These videos not only increase traffic influx but also boost sales with improved conversion rate and diminished bounce rate.